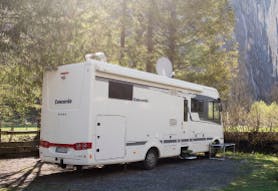 Comfort Pitch
Our comfort seats: They are not only beautiful, but also large. Plenty of space to make yourself really comfortable. With green electricity of course, plus water connection. And all around well-kept lawns, pretty nature paths, lots of green. That's camping life!
Amenities
Electricity (16A)
Fresh water connection
Waste water connection
Parking place optional
Free Wi-Fi
Communal kitchen
Communal bathroom
Communal lounge
Important to know
17 Comfort Places
Check-In: 3 pm
Check-Out: 10 am
Dogs are welcome, but please on a leash
Free WiFi throughout the site
All accommodations is non-smoking, thank you!
There are enough parking spaces on the camping site
Sustainability is important to us. Do you also participate?
Thanks for keeping up with the current Covid-19 rules at all times!
Sustainability Steps
We will never be perfect, but we're working to improve our camps and to be closer to Nature. Find out more
Schilthornbahn - 30% Discount
The cable car ride from Lauterbrunnen, Stechelberg or Mürren up to the Schilthorn is spectacular, and the view from the summit is simply unbeatable. Also the Thrill Walk allows you to follow the footsteps of James Bond. Reduced tickets are available at our reception.
Similar options from our other campsites